We are currently booking installation projects for the 2023 season.


Landscape Architecture and Design
One of the most critical building blocks of a landscape that is both functional and beautiful is a well-thought-out design that reflects your personal vision and needs. Singing Hills partners with award-winning Landscape Architects and Designers to foster a thoughtful and creative design process independent of the construction process. These first-class professionals align perfectly with our award-winning construction team to provide you with an unparalleled outdoor living environment!

DESIGN PROCESS
Initial Consultation

When you call us seeking design services, we will refer you to a curated selection of design professionals whose commitment is to work with you to produce a plan that harmonizes with your lifestyle and setting. This independence works to your advantage, eliminating the tendency to produce plans that fit the needs of the landscape contractor more than the client. Because many firms with in-house designers retain ownership of their plans, utilizing an independent design professional will empower you by giving you freedom to use the plans however you wish.
Design Process

The design process will vary, depending on which firm you select and the complexity of the site. If structural elements will be used to define your outdoor living spaces, a skillful Landscape Architect will be ideally suited to the task. In some instances, engineering may be required to properly design outdoor structures for wind or snow loads. If your primary needs are more basic, involving primarily plants or other landscape elements, a Landscape Designer may be the best choice. We will ask some preliminary questions to help sort out the options and make a recommendation of a top-tier design firm tailored to your needs. In all cases, the design professional will seek to listen to your needs above all.
Proposal
Once the design process is completed, we will provide you with a detailed proposal to transform the concept into reality.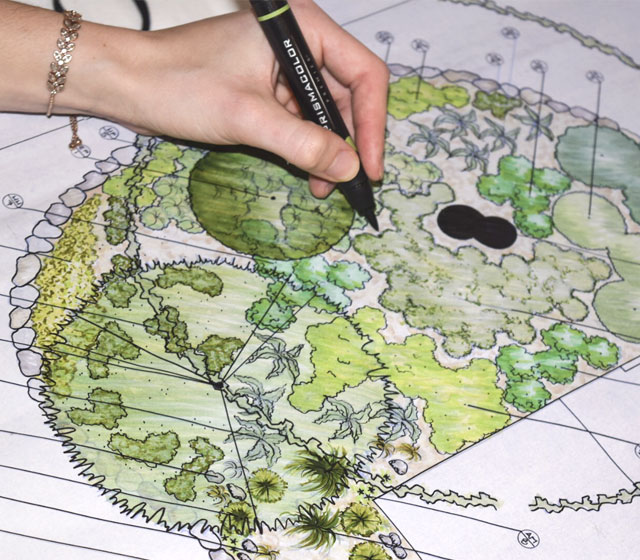 FAQ
Isn't it less expensive to use a landscape contractor with their own design team?
We all know there is no free lunch. Some contractors recover their design costs by hiding them in the cost of construction. Using an independent design professional is a best practice that keeps all costs transparent and fully disclosed.
If I use a design professional that Singing Hills recommends, must I use Singing Hills to build it?
How much should I budget for the design?
How much should I budget for the landscape construction?
Use the Links Below to see our other services.