Our capacity to perform new design work is currently fully booked for 2021.

Please call us for a referral to one of our independent Landscape Designer or
Landscape Architect partners.

We are currently booking installation projects for 2022.


Overview of the Design Process
The plans created through this process take your ideas and add our creativity and experience to produce a functional and aesthetic plan with precise drawings and specifications. The plan will document exactly what will be built and allows us to accurately estimate the cost of your project. The following is a step by step description of our design process to give you a clear picture of the exciting journey towards your ideal outdoor living space.

DESIGN PROCESS
Initial Consultation

There is no charge for our first meeting, an approximately one-hour consultation to discuss the details of your project. This is also your chance to interview us to make sure we are the right fit. This time can be thought of as a brainstorming session as we walk the property and share ideas. Our designer will share insights and describe options regarding design costs, process, and implementation. The resulting landscape plan will allow you to receive approval from any authorities or governmental entities, but more importantly will give you a clear road map to implementation of a functional and inviting outdoor living space. If your project is smaller in scale, or not very complex, we may recommend a simpler design process to help contain costs.
Concept Plan

After meeting with one of our designers, they will take the information collected and create a preliminary conceptual design. This step in the design process allows you and the designer to establish the basic footprint of your new landscape prior to adding all the details. This preliminary plan serves as a verification of concept, documents the spatial uses, and is the framework for the details that will be added in the final design. It is essential that this framework be determined prior to going further. Aspects of a preliminary concept plan include:
Property lines and the footprint of the house
Boundary lines (edging, concrete, turf, planting beds) and general layout of spaces
Hardscape and other elements that are foundational to the design
Definition of basic spatial uses and other fundamental considerations
The Concept Plan does not include details about irrigation systems, plant material selection, accent features, material selections, etc.
Revisions
Based on your feedback, we will adjust any aspect of the Concept Plan that needs to be addressed and begin to add in more details. Once these adjustments to the proposed framework are made, the revised design will be presented to you for your approval and any needed revisions before moving on to the final plan.
Final Plan
This step finalizes all the details and aspects of your landscape and brings everything together in one place. The final plan will include the following where applicable:
Hardscape Plan – Provides all the details, material selection, and final layout of pathways, patios, walls, fire pits, pergolas, accent boulders, wood mulch, rock, grass, cobblestone, etc.
Planting Plan – Provides you with each proposed plant location, size of plant at installation, size of plant when it is mature, etc.
Plant Pictures – Colored pictures of each plant with a description of its benefits to your landscape, mature size, growth habit, bloom time, and other important characteristics
Construction Details - Any pertinent construction details or specifications.
Proposal
Once the design process is completed, we will provide you with a detailed proposal to transform the concept into reality.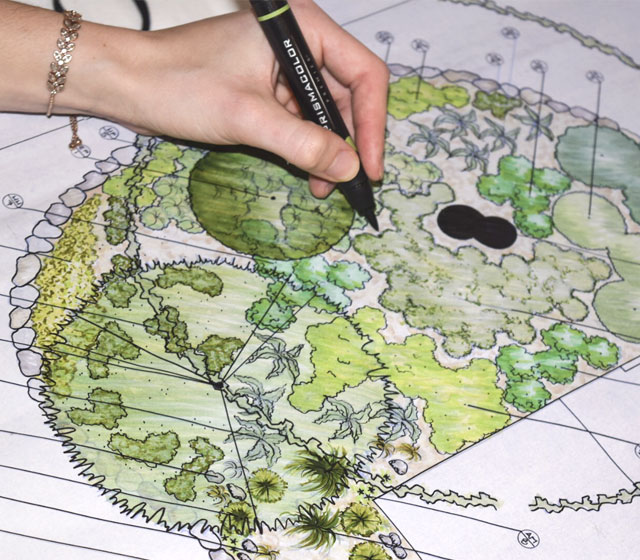 FAQ
How long does the Design Process take?
A lot depends on the size of the design and the level of detail needed but a general rule of thumb would be 3-6 weeks.
If I already have a Landscape Design will you work with me to install it?
Do I need to know my budget before beginning the Design Process?
Use the Links Below to see our other services.