Crew:
Adrian C, Esteban C, & Simon V
This delightfully classic Tudor home was enhanced and complemented through a complete landscape renovation. Reclaimed flagstone and clay pavers were combined to create a series of patios and walkways which greatly extended the usability of this landscape. A secret garden, unique fire-pit and meandering pathways also add to the enchanting effect of this historic project.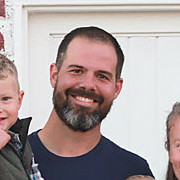 DIVISION MANAGER - CONSTRUCTION
"Adrian and the rest of the crew did a great job maintaining the historic appeal of this home through their exemplary attention to detail and their artistry working with the reclaimed materials. The coordination and team effort between Homeowner and Landscape Architect made this project a pleasure to manage."